Do you have a shop?
Yes, I work from a small studio in the Sutherland Shire where everything is made on site. All cakes are made to order, I don't keep pre-made cakes in stock.
Do you bake your own cakes?
Yes. All cakes. ganaches, frosting and fillings are made from scratch from my studio kitchen.
What flavours do you offer?
Mud cakes: White chocolate mud, chocolate mud, caramel mud, red velvet. Lighter cakes: soft chocolate cake, soft vanilla butter cake. Variations are available. For example if you like coconut we can do a coconut and white chocolate mud cake. The sky is the limit.
Do you cater for food allergies?
Yes. As a Coeliac myself I understand how frustrating it is when you cant have your cake and eat it too. I specialise in Gluten free, dairy free and vegan cakes.  I can do other dietary requirements on request.
Do you do sponge cake?
No. Due to the nature of sponge cake It's not suitable for the types of cakes that I do.
Do you do figurines and toppers?
Yes. I can do handmade figurines or I have a supplier of custom laser cut acrylic or timber toppers. http://elitedesignandengraving.com/
Do you deliver?
We charge a competitive delivery and set up fee based on the number of kilometres travelled to your venue. Longer deliveries are occasionally arranged, but must be determined on a case-by-case basis.
Can I pick up my cake?
Generally I'm happy for you to collect cakes of 2 tiers or less. However all other cakes will require a delivery and set-up fee.
How much notice will you need?
To avoid disappointment please book your cake as soon as you have decided on a date for your celebration. I'm happy to accommodate last minute requests (subject to availability) but it generally takes at least 1 week to create a couture cake. Due to our high volume of enquiries we ask that all quotes be accepted 2 weeks after you receive them and deposit paid at least 2 weeks before your event.
Where can I see photos of your cakes?
Follow me on instagram and Facebook to keep up to date with all the photos of my cakes as I make them.
How do I go about designing a cake for my event?
We can organise a meeting (or cake chat as like to call it) at my studio to design a unique couture cake for your event. You can bring your invitation, fabric samples, any photos etc to use as inspiration for your cake. From there I will do some sketches for you to come up with a one of a kind design. The best way to start is to go to https://www.chaosandcouturecakes.com/enquiry-form/ and fill out as much as you can from our enquiry form and we will get back to you as soon as we can to start the design process.

Can I send you photos of the cake I would like?
Yes. I'm happy to use pictures of other cakes as inspiration but don't like copying them exactly. I can however work with you to make a custom designed cake that will suit your event.
I am interested in a multi-tiered cake. Can I have a different flavour for each tier?
Absolutely. You can have any of our flavours per tier at no additional cost.
Do you do novelty cakes?
I don't generally do character cakes but I can do designer handbags, shoes and other things upon request
Do you teach cake decorating classes?
Yes we do! To find out more click this link https://www.chaosandcouturecakes.com/shop/
What is a naked cake?
A naked cake is a cake without an type of covering meaning you see the inside layers of goodness. The sides are generally left un-covered but it usually has fillings (e.g. ganache or Swiss meringue buttercream between the layers.) It can be decorated with flowers, fruit, drizzled with caramel or chocolate.
What is a semi-naked cake?
A semi-naked cake is not fully covered. it has a thin scraping of buttercream or ganache around the sides of the cake.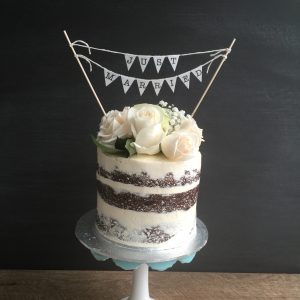 What is a fondant covered cake?
Fondant is an edible icing used to cover and decorate cakes. It does not have the texture of most icings, it has more of a stiff texture that can be rolled out. When making a fondant covered cake we first do a layer of ganache then the fondant over the top to create a smooth covering for your cake.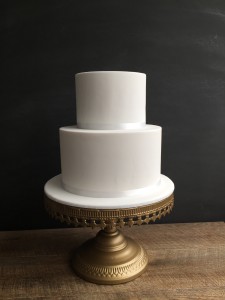 What is Swiss Meringue Buttercream (SMBC)?
SMBC is a type of icing made by whipping a mixture of egg whites and sugar that has been gently heated in a double boiler until the sugar dissolves and the eggs are cooked. The egg white mixture is then whipped up into a beautiful glossy meringue.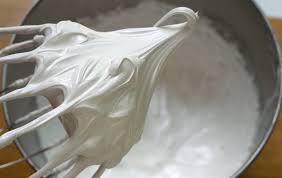 Do you do slab cakes? No
How much cake will I need?
We use this as a guide for our cake servings: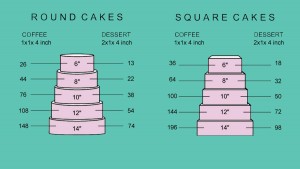 How much can I expect to spend on a couture cake?
Each cake is individually priced taking in to account the size, complexity in the decoration and any special requirements. Fondant covered cakes: As a general guide fondant covered cakes are priced at $250-$300 per tier.  Semi-Naked cakes: As a general guide semi-naked cakes are priced at about $150 per tier. If you have a budget please let us know, we can advise you on your options and can come up with a design that fits within it. Alternatively head to the link https://www.chaosandcouturecakes.com/product-category/cake-designs-to-order/ and check out our range of prices.
How much do you charge for cupcakes?
Our decorated cupcakes start from $3 for minis and $4.50 for standard size. Prices will vary depending on the design on top.
Do you make macarons?
Yes!
Would it be cheaper for my wedding cake to be styrofoam and have kitchen cakes to serve to my guests?
Depending on the design of your chosen cake, you will be able to save some money but please note it is the same amount of work required to decorate the 'fake' tiers of your wedding cake as it is the real cake tiers. We have kitchen cakes available in a 9 inch square at $99 each.
What if I need to cancel my order?
Any cancellations must be made 14 days before your event to receive a full refund. Cancellations made after this time frame will receive a credit note to the value of their order.
What if I need to cancel my class booking?
*in the event you need to make a cancellation, please be advised they are to be made via email at last 3 days before your scheduled class.
*Cancellations made outside of this time frame will incur a 50% cancellation fee OR may transfer their fee to a class credit.
*If for any reason Chaos and Couture needs to cancel a class, participants will be notified via email and a full class credit credit will be given.